It doesn't take long to start enjoying yourself when talking to Nicole and Darrin Williams. Darrin, a Little Rock native and Central High alumnus who serves as CEO for Southern Bancorp, and his wife, Nicole, are fundholders with Arkansas Community Foundation. They opened the Nicole and Darrin Williams Family Charitable Endowment in June 2020 to help ensure their legacy of giving and leadership.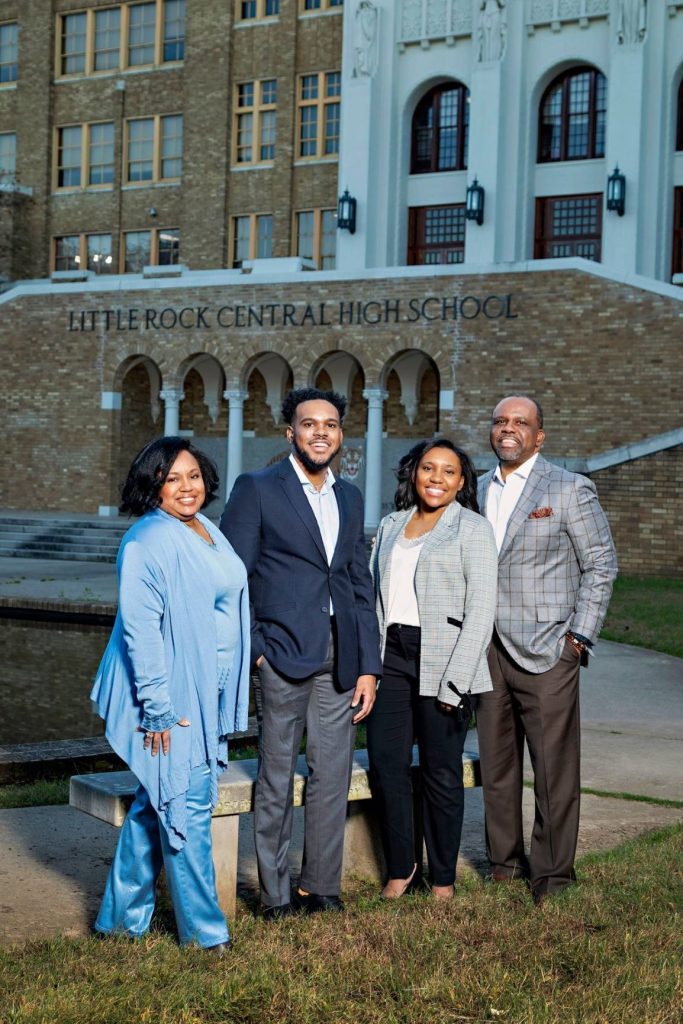 The Williams are attorneys who met at Vanderbilt Law School. Currently living in Little Rock, they raised their children, DJ and Payton, in central Arkansas. DJ and Payton attended Central High and are now enrolled at Wake Forest University in Winston Salem, NC and Spelman College in Atlanta, GA respectively. Darrin is a founding board member of the Little Rock Central High Tiger Foundation, and the whole family boasts Tiger pride: Nicole was PTSA president while her kids were enrolled there, and Darrin was student-body president in 1986.
Public service and the idea of "giving back" is a deeply rooted tradition for the couple. Darrin has a distinguished resume of public service and volunteerism. He served on the Little Rock Planning Commission, in the Arkansas General Assembly and currently serves on the boards of Arkansas Children's Hospital and Hendrix College. Adopted by a minister and schoolteacher, his most formative years taught him that "giving back is just what you do." Growing up "there was never a day that we ate alone as a family. My parents always welcomed people in need for meals and any other help they could provide. They modeled that for me," he said.
Nicole has similar roots. Her father, a former IBM executive and entrepreneur, has served on the boards of more than 30 community organizations, and her mother has been a full-time volunteer for many service and civic organizations and her church's Christian education department.
"It was important to Darrin and me that we raise our children to give back. When they were eight years old, we started a tradition to help foster that spirit of giving. Instead of birthday parties where everyone brought a gift for our kids, we would buy them one big thing, and then ask their party guests to donate to a local charity of our children's choice. DJ first chose Heifer International and Payton selected the Humane Society when she turned eight. Each year they had fun choosing different local charities to support," said Nicole. "We always had three jars for the kids: church jar, savings jar and spend jar. 10% to the church, 20% in savings and the rest you could spend. Now that the kids are in college, they are mostly continuing this principle, and now they truly see the value in financial management and planning their charity."
Nicole is a board member with the Tiger Foundation, a sustaining member of the Junior League and a member of Alpha Kappa Alpha Sorority, an organization dedicated to sisterhood and service. Nicole is also actively involved with the local chapter of The Links, Inc. Links Inc. is a great way to give back to the community. The organization is approximately 75 years old. Founded and led by Black women, we award scholarships, promote cultural activities and events and expose children to art, STEM topics, healthcare information and more," Nicole said.
"More than anything, though, our faith guides us," said Darrin. "When Nicole and I first started dating while at Vanderbilt, we would attend church together on Sundays. Those were our first dates! Thankfully, our faith has shaped our marriage, guided our parenting and can hopefully be felt in any community leadership where we are involved. We attribute any accomplishments in life to our faith."
When asked why they started their fund at Arkansas Community Foundation, Darrin and Nicole said at the same time, "We wish we'd done this sooner!" They are working on a legacy of faith and having fun, while giving back to the causes they care about.
"We are so grateful for the work of the Foundation. If I could offer any advice to someone exploring charitable giving or starting to build a legacy, I'd say 'don't wait.' It is liberating and incredibly fulfilling to have opened a fund. The Foundation makes it easy and gratifying."