Aspire Arkansas provides online, downloadable county-by-county data on indicators for education, health, families and community. There, you'll find county fact sheets, historical data and PDFs of individual data maps. This updated data can help individuals and organizations make better decisions to improve their communities through charitable giving.
Arkansas Community Foundation funds AspireArkansas.org and data compilation efforts to provide up-to-date information that can help you make giving decisions by targeting key issues in your community. The knowledge you gain can be a catalyst for choosing the most important local priorities to support with time, funding and advocacy.
Why Collect Local Data?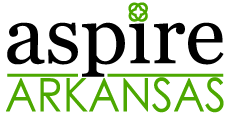 Aspire Arkansas grew from a need that Arkansas Community Foundation identified for more accessible, localized data to drive community improvement. The first Aspire Arkansas report was published in 2011 with county-by-county data on issues important to Arkansans. The data was updated in 2013 and an Aspire Actions report was added to help Arkansans bridge the gap between data and actions that could accomplish specific community goals. In 2018 updated data was developed for a new aspirearkansas.org website rather than a printed publication.
Community Foundation affiliates are able to make grants and build partnerships to address the areas identified through Aspire Arkansas data and analysis. Statewide organizations and government entities also use the combined statistics to understand issues better and provide smarter answers to those they serve. Our statewide Giving Tree Fund and individual donors also use Aspire Arkansas data to determine how they can best make a difference in their communities.