Arkansas Community Foundation has established a statewide COVID-19 Relief Fund. In addition to accepting donations from the general public, this fund is awarding small and large grants to nonprofits and community organizations across the state. All contributions will be pooled with contributions from other Arkansans to help our neighbors affected by the pandemic.
How will the Arkansas COVID-19 Relief Fund be used?
In the short term, the fund provides rapid-response mini-grants grants to nonprofit organizations working on the front lines. This critical funding enables them to maintain operations and support the increased demand for services. See the list of grantees so far.
In the intermediate term, the fund awards Phase Two Adaptation Grants between $5,000 and $25,000 to nonprofits and community organizations. These larger grants will focus on addressing the ongoing economic needs of Arkansans affected by the pandemic and shoring up critical systems in our state, such as healthcare, emergency food distribution, schools, etc.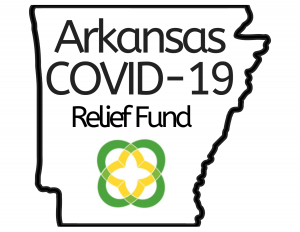 While Arkansas Community Foundation does not make direct grants to individuals, we can and do award funding to nonprofit organizations that provide individual financial assistance to their clients.
Here's a list of grants that have been awarded so far. Note that we are continuing to review additional proposals that have been submitted and will add to this list as more grants are approved. 
Click here for a full list of Frequently Asked Questions about the COVID-19 Relief Fund
See our Gratitude Report for a list of  generous donors to the COVID-19 Relief Fund.