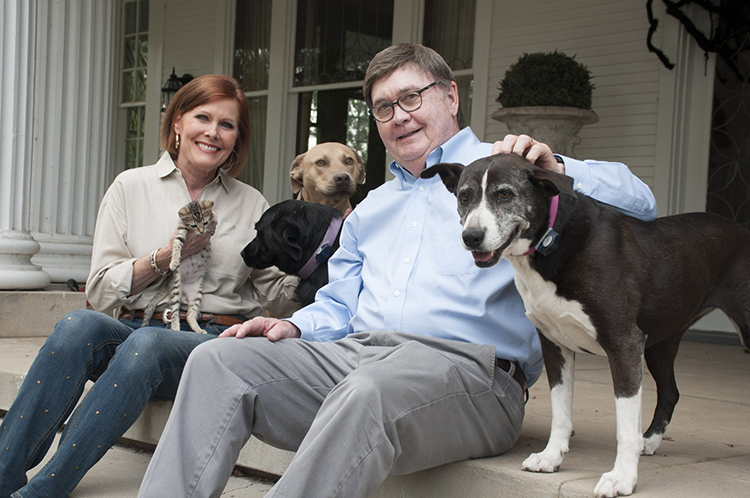 Diane and Steve Higginbothom's family grows cotton in Marianna but they grow more than crops through the Lee County Community Foundation. What started as a fund benefiting the local pound and honoring Diane's birthday has since become a diverse charitable fund that benefits a host of Marianna's nonprofits.
You can find a half-dozen rescue dogs and cats most anytime at their home in the middle of Marianna's downtown. The Higginbothoms both love animals, and despite their sons' misgivings, they don't plan to stop taking in rescues anytime soon. In fact, they've built a miniature house in their back yard that keeps the dogs and cats safe when they can't be in the main house.
"The city has an officer at the pound and takes care of the facility. But every animal there has issues, and many come in critical condition. In addition to funding veterinary bills for the dogs in the pound, we volunteer to take dogs and cats to be spayed and have exams," Diane said. "It has become a tradition in town that many children ask for bags of dog food for the pound on their birthdays."
A former board member of the Lee County Community Foundation, Steve knows the importance of smart charitable giving.
"It is quite obvious when you look at what the Foundation has done in 28 years," he said. "Thousands of dollars in grants have gone into the community to do good. The effects are exponential on what the funds have done to help nonprofits operate and sponsor activities in our impoverished county. I also see the Community Foundation helping bring our community together across racial and socio-economic lines."
For the Higginbothoms, the Community Foundation is a family tradition. Their involvement was inspired by Steve's uncle Charles West, one of the founders of the Lee County affiliate, who set up funds that benefit the library, historical buildings, education and more. Today Diane and Steve's sons, West and Drew, represent a new generation of Community Foundation leaders in Lee and St. Francis counties.