TORNADO RECOVERY IN WYNNE, ARKANSAS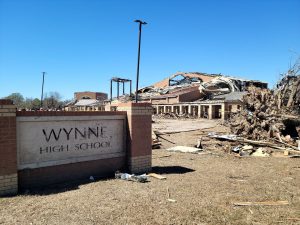 An EF3 tornado touched down in Wynne on March 31, 2023 leaving severe damage in its wake and hundreds of homes, families and businesses affected. Cross County was declared a disaster area by the federal government.
Cross County Community Foundation accepted grant applications for organizations doing long-term recovery in Wynne. Grants were be selected by a committee of local leaders who live and work in the affected communities, in partnership with the local long-term disaster recovery committees and representatives of Arkansas Community Foundation.
Click here for a full list of tornado recovery grantees. 
Cross County Community Foundation is an affiliate of Arkansas Community Foundation. With an active, involved board of local leaders, we are working to establish endowment funds, build assets and award grants to help meet community needs. 
To DONATE to any Cross County fund, follow this link to view a complete list of our Cross County funds and endowments.